Nanoco's tailored approach to making quantum dots has customers signing on the dotted line, Emma Davies reports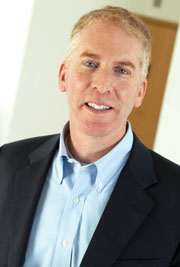 Nanoco chief executive Michael Edelman
UK quantum dot company Nanoco was little more than a concept when its chief executive, Michael Edelman, first joined in 2004. 'It was run from a converted mens' toilet at the University of Manchester,' he laughs. 'At the time the company hadn't spun itself out of the university; it was basically an offshoot of Paul O'Brien's research lab,' he recalls. Nevertheless, Edelman was 'very attracted'.
Quantum dots are nanoparticles of a semiconductor material. Their small size gives them unique electrical and optical properties, which can be precisely tuned simply by changing the particle size. These properties make quantum dots suitable for a range of applications, from imaging to lighting, energy production and even computing
. Co-founders Nigel Pickett (now chief technical officer) and O'Brien had developed a quantum dot manufacturing technology to the stage where they knew it had commercial appeal. Instead of the standard production process, which needs very high temperatures to induce particle growth, they produced dots using a molecular cluster compound, which acts as a template or seed, providing nucleation sites for particle growth. Their beautifully simple approach allowed them to make enormous quantities - in nanoscale terms - of quantum dots.
With a PhD in organometallic chemistry and much experience working in the chemical industry, Edelman immediately spotted the technology's potential. 'What I saw was a material that I perceived to be a true platform technology - one material where you simply change the outer coating for different applications. It's not often that you see a true platform technology so I got really excited,' he says. 'Excited enough to join and not take a penny of salary for the first year.'
Edelman and Pickett worked from their small office and raised the money to spin out Nanoco. The company originally targeted biological research markets with its cadmium-based quantum dots. 'The problem we had was that in a week we could produce enough to last the world for a year so we had to figure out where else to sell the stuff,' says Edelman. An obvious field was optoelectronics but without a strong home market, Edelman headed
for Japan
.
There, technology companies were keen on the dots but wouldn't accept the cadmium because of toxicity concerns
.
'We came back and made the strategic decision to come up with a cadmium-free alternative
,' says Edelman. After several years and several million dollars of investment, Nanoco now has cadmium-free quantum dots (CFQD), which can be tuned to produce wavelengths of light from UV through to the near infrared.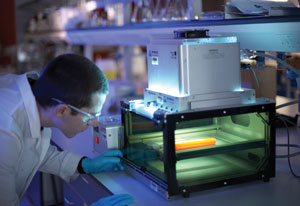 Nanoco research laboratory
The company now employs 65 people and continues to expand. In 2011, Nanoco opened a manufacturing facility in the former ICI premises in Runcorn, UK, which have been transformed into a science park. When the management company set up the site, they retrained a lot of the ICI-trained technicians. 'For us the site is perfect because they are used to hardcore chemistry there,' says Edelman. Looking further ahead, Edelman acknowledges that the company will need a manufacturing operation in Asia.
Nanoco works through joint development with companies that can put the quantum dots into their products. 'Our whole business model is about collaboration,' says Edelman. 'We tweak our molecules so they work in a customer's application.' For example, i
n August Nanoco signed a joint development agreement with a large lighting company to use the CFQDs to transform blue LED light into white light. Nanoco also has an agreement with a major Japanese company that will use the dots in its LCD TVs. Having refined the CFQDs to meet the technical specifications for the TVs, they hope to begin manufacturing in 2012.
Solar energy is yet another application of the dots. Nanoco has a solar energy joint development agreement with Tokyo Electron to make nanomaterial solar ink. Nanoparticles are printed and then annealed into a solar active film layer.
So far, most of its commercial relationships have been in Japan, but Nanoco is spreading its wings to take it into Korea, Taiwan and the US.
The company is still running at a loss, partly after investing in the Runcorn facility, but forecast dot sales are good. Nanoco will also take a royalty for every item containing the dots that their customers sell. 'We're creating - hopefully - a multi-billion pound company,' says Edelman.
Emma Davies is a science writer based in Bishop's Stortford, UK
Related Links
Nanoco
A world leading developer and manufacturer of quantum dots
Fonte:
RSC