Yfke Hager finds out how a nanoscience PhD course is training scientists to cross boundaries and push frontiers
As the lines between traditional scientific disciplines become increasingly blurred, research institutes are exploring new ways to train the next generation of scientists. One such endeavour, an ambitious project to foster collaboration and interdisciplinary research, is currently underway at the North West Nanoscience Doctoral Training Centre (NOWNano DTC).
Funded by a grant from the Engineering and Physical Sciences Research Council, the NOWNano DTC combines

expertise from the University of Manchester and Lancaster University to offer a four-year doctoral training programme in nanoscience. 'Our mission is to expand the education of doctoral students and teach them to work across disciplines

,' says Irina Grigorieva, director of the NOWNano DTC and reader in condensed matter physics at the University of Manchester. 'It's a real step change in terms of what the students learn.'
To ensure that students are well versed in subjects as diverse as chemistry, solid state physics and nanomedicine, the first six months of the NOWNano DTC programme are dedicated to courses taught by experts from nine different schools across both institutions, covering physics, chemistry, computer science, materials, electrical and electronic engineering and medicine

. 'This is essentially a one-year MSc programme condensed into six months, so it's a very intensive training period,' Grigorieva explains. During this time, teamwork and independent thinking are emphasised through two enquiry-based learning projects, where students from different disciplines are grouped together and given a research topic. In addition, each student completes two extended laboratory projects covering different aspects of nanoscience and nanotechnology.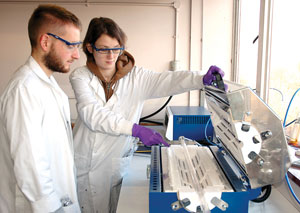 Peer to peer instruction is a key element of NOWNano's training
This initial training period helps the students in a number of ways, says Nicola Tirelli, professor of polymers and biomaterials at the University of Manchester, who is on the management board of the DTC. 'First, it fills the gaps in the scientific background of the students, who often come from very focused and specialised undergraduate degree courses.

We broaden their scientific horizons

,' he says. 'Second, the training period offers students

the opportunity to join a unique interdisciplinary community

.' Tirelli explains that DTC students can attend courses alongside students taking courses in tissue engineering and biomaterials at the University of Manchester, allowing the three cohorts of students to engage in peer to peer training. 'And third,' Tirelli concludes, 'the broad interdisciplinary training enables the students to make a more informed decision about their PhD research project.'
During the remainder of the programme, students complete a PhD research project selected from a number of options offered by supervisors at each university. These projects - often co-supervised by academics from other departments -

focus on two major research directions: from nanoscience through electronics to information technology, and nanoscience in medicine.
Ensuring that students come from a wide range of disciplines is the key to the DTC's success. Competition for places is fierce, notes Grigorieva. Last year the DTC received 111 applications, and 36 candidates were interviewed for just 10 studentships. 'We look for a strong academic background, but also make sure that each cohort of students comes from a wide range of backgrounds, including medicine,' says Grigorieva. Admitting students with medical and life science backgrounds sets Manchester apart from the other two nanoscience DTCs in the United Kingdom, the Nano Science & Technology DTC in Cambridge and the Bristol Centre for Functional Nanomaterials.
In keeping with the remit of a DTC, the NOWNano DTC also provides transferable and business skills training. This includes science communication, such as presentations at DTC conferences and science outreach activities, as well as a bespoke course developed in collaboration with the Manchester Enterprise Centre at Manchester Business School. Titled 'Technology, Innovation & Commercialisation of Research', the course offers students an opportunity to develop a business case for commercialisation of an idea or a product that they identify from their own research. 'We aim to foster a spirit of innovation and entrepreneurship in our students,' says Grigorieva. 'We want to make sure that they can put their knowledge into practice in the marketplace and contribute to the economy.' Tirelli agrees that the NOWNano DTC should give students an edge when it comes to job hunting. 'Researchers have to compete in an international marketplace, against European graduates who have experienced training programmes that tend to be much broader in scope than their UK counterparts.'
Yfke Hager is a science writer based in Manchester, UK
NOWNano
NOWNano DTC: The North West Nanoscience Doctoral Training

Centre
Fonte:
RSC